$BlogRSDUrl$>


CITTA VIOLENTA
Wednesday, November 04, 2009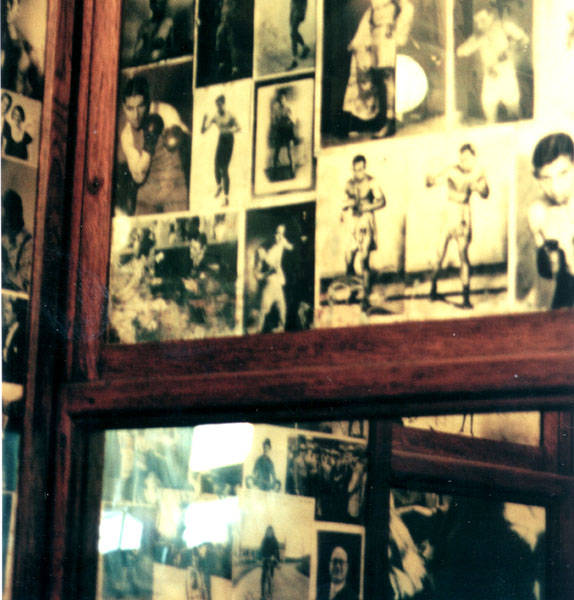 Hark, The Village Wait!
"If she sees you again she will probably stab your eyes out. I can't believe you ran out on her like that. That took some nerve! Of course, I always knew you were slime."

This was Jackie, before she disappeared, quick and mysterious. Not, this time, talking about herself in the third person.

"And you're in mourning for this thing you fucking invented. You miss this, you regret that! Fuck it. FUCK IT. What is wrong with you?"

All looped up with tacky silver; hair curly and askew.

"We shouldn't still be here you retard."

Evermore charming with age; the charisma, at long last, seeping into her bones, like sea salt to pearl divers.

The last thing said, along the lines of...

No, but, Lucy M. will still join me, every now and then: the last stalwart, holding out still, remains mould-less, and is skinnier than ever. It exaggerates the fragility of her magnificent bones. Lucy still responds, and will join me in the French House for lunchtime Breton cider and newspaper debates. Still relish inky fingers and foggy heads. A table in the back alcove: it is always a joy and you can talk to her, from Balzac to Bakunin and back around, a rare thing. She is well-cherished.

Wines of the Loire valley, beers of Eastern Europe, Johnny Walker Black Label, Courvousier and, lately - in homage, on my part, to Franco Nero, George Hilton and Barbara Bouchet - endless, endless J&B (with ice)...

It is getting tidy here, routine, well-organised, but pockets of life, filth, licence, fun, and rude, rude health, remain. Then, those born stubborn, they are not entirely quiet, either. Though sometimes you must search them out, and they do not look so confident now, as their cartography and their climate, it is almost extinct. But something here holds together, just about.

Among the ruins of the village, which always happened to be a default option. It turned out bloody well, for a few years. The sun and those long, deep, steep shadows, in particular, remain with us. And, still, the buffet stench, the cafe breeze, the dry gum, the dust and rust; cigarette ends, black puddles in gutters. This augmented by sparkling open-front American bars, or dull-grey doorways beneath bent neon. Patchy, but no patchwork.

There are scars, and holes. In memory, or Cambridge Circus. Or ripped into the very fabric of space, the texture of time: lunch hours, or long drinks, or aimless strolls, practical contingencies, evenings out. La Centrale, Reckless, the Other Cinema.

You stop extinction and keep this place intact with special methods, secret codes, a method of decoding. After a while, a few months or so of adequate inebriation, solidarity and blurry days, this becomes natural. You get the hang of it. Then you start to transform streets and alleys and basements every day and night. That is to say, they form and transform themselves, and you learn to -- not read this, exactly -- but sense it, absorb it, extend it. This is a square area, it has certain boundaries, but nothing applies within.

There are flashes and small patches. The lamps and cobblestones, plaques and bollards, of Meard Street. This is murderous elegance, but it doesn't mean very much. Until it runs over to Peter Alley, that seamy slipstream, onto the remnants of Berwick Street and its erotic books, lovely girls, delay sprays, extreme lingerie. Then, so quickly, into the sublime market rancour. For example: I love that acceleration, the drop, contrast, switch. Inexperienced sensual tendencies could not fully gauge the shifting atmospheric conditions implicit in that unique corridor. This is just a matter of fact.

French models; a leggy, busty charmer; someone 'New' and 'Oriental' (someone to avoid). My favorite Latvian, she tips out of her window, black bra straps showing out of her dressing gown, bottle blonde hair tied back, lips already gleaming red, shouting over to friends at the flower stall, its croci and tulips and cacti sprawling over the pavement. There is colour here. The whores with their signs tacked up validate some kind of network, some kind of solidarity; pot plants along window sills, stark red bulbs diffused by lace curtains.

The violence never quite latent. You sense this thudding out of the strip club doorways and you never, never, for the life of you, go down those stairs.

Finally, the debris was slightly slushing around this grubby bowl, therefore we had to take emergency action: head to the underground bunkers. And yes, there are fox-holes. Think, for example, of the Italian Bar, Tricia's. In this way:

Soho, scaffolded, protected, certified, is certainly not, even now, anything of the sort. It is still an entitlement to anyone willing to accept or trace its contours and immerse. Not merely this, the responsibility is not hard, but acute: it encircles, it is translucent, lucid, with ambiguous borders, often able to repel subtle and insidious betrayals.

There is, for example, the inevitable Fitzrovia breakout, the internal betrayals: these are worse, and mean more. Let's see: Leffe and Marlboro Lights at All Bar One, a peculiar, agonising twinge, if not exactly a sin; Sunday dinners at Pierre Victoire, out of the underbelly. Dissonant, diffident evenings; the mornings, stirring, and difficult.

What happened, exactly, to this?

At one point swapped Carmisa and Sherry's and Capital News for Vauxhall Sainsburys and a certain transition was complete. The shock being impacted; this happened with volition. Staggered home each night, brainwaves flying for the floor; did not even stop to consider this, or the impact or effect. Everybody, slowly, left: relocating to New York, Paris, Australia. Or The Countryside: to idylls of seclusion and alcohol. Some simply got stuck in Bloomsbury, with its lovely libraries and cafes and arcane Marxists. And we just stopped talking. SOAS was like a disease, too.

Some are still here, however, working off hangovers, lunchtime at the French House, with bottles of Breton cider, lost loves, Herald Tribune full sprawl, hanging onto the windowsill, attempting to disperse hither too tolerated psychic turbulence, trying to regain composure, clarity, direction. Lonely and silly and sodden, and that was always the end.

So, borders slowly erode, and this corrosive, congested hell becomes visible and then worse: transparent. A heavy white sky to compress one flat, thumping head, to press all the poetry out. And the conversations and reputations all recede: the law of tides, reasserted.

In Memoriam. A certain symbolic presence had a decapitating stroke, due to louche afternoons pawing Yale press art monographs and digesting extra long lunches.

The thing ended with slate skies.
citta vecchio
October 2003 November 2003 December 2003 January 2004 February 2004 March 2004 April 2004 June 2004 October 2004 November 2004 December 2004 February 2005 March 2005 July 2005 January 2006 September 2006 December 2006 November 2007 March 2008 April 2008 May 2008 July 2009 August 2009 November 2009